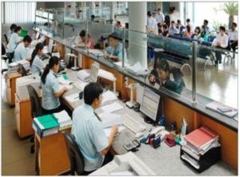 SANCOM Logistics is the leading company on customs clearance and freight at Vietnam, we handle your export / import clearance and navigate you safely through border controls and customs compliance. Combine our customs clearance and transport services to ensure accurate customs compliance and timely delivery of your goods. Whether you are shipping your goods by air, sea, or ground, we will help you to do customs clearance quickly and efficiently. With professional team in the field of transport, international shipping, freight forwarding, logistics and supply chain management to international clientele in collaboration with team experienced in the transport and customs clearance procedure, SANCOM Logistics has sufficient capacity to meet the transport and customs clearance procedure needs. SANCOM Logistics provides customs clearance services for all types of export and import cargo with professional, experienced and enthusiastic team. We specialize in international trades and customs procedures. We take great pride in our ability to facilitate customs clearance quickly, efficiently and consistently meet customer's deadlines.
Transshipment services
SANCOM Logistics offers transshipment services, including customs clearance all ports and then trucking shipment and border clearance to Laos and Cambodia. SANCOM Logistics is especially strong in transport cargo to / from Laos and Cambodia, and customs clearance at Laos and Cambodia. With our branch offices located in Vientiane - Laos and Phnom Penh - Cambodia, we are ready to meet all the demands to transport direct import and export goods and cargo in transit, as well as do fast import permits and exempt permits.
Our services and products
Customs clearance
Sea freight, Air freight
Consolidation services
Door to door services
Courier express services
Multimodal transport
Transport cargo to and from Laos
Transport cargo to and from Cambodia
LCL/ FCL services
Shipping agent
Documentation services
Logistics services
Domestic transport (road, rail, waterway)
Dangerous goods services (IMDG Class 1~9)
Perishable, frozen goods services
Warehousing and distribution
Packing, crating, wrapping services
Cargoes insurance services
EXW/ DDU/ DDP terms shipment
Move and install factory's equipment system
Oversized cargo, overweight and project cargos transport
Exhibition cargoes services in Vietnam and overseas (Lao PDR, Cambodia, ...)
For more information, please contact us: